Field field hockey is a team sport structured in the standard field hockey format, in which each team plays with ten field players and a goalie. Teams must drive a round field hockey ball by hitting it with a field hockey stick to the rival team's shooting circle and then into the goal. The game is won by the team that scores the most goals. Games are played on grass, sprinklered lawn, artificial turf, synthetic field, or a boarded surface.

A sport of values

Fun describes this constantly evolving sport, which does not hesitate to adapt its rules to increase the pleasure of the players. Fun is also a reminder of what the #1 objective of playing a sport is: to have fun.
The family is central to field hockey and first of all because it is a sport that can be played by everyone: girl or boy, dad or mom. We often see parents getting involved, coaching, refereeing, in all simplicity.
Finally, fair play is a cardinal value of this sport, where respect for referees, opponents, teammates and spectators is required of everyone.

An outdoor sport… and indoor

Obviously, field hockey is played outdoors, on fields whose dimensions are similar to those of soccer. From September to October and from February to June, the games are played on synthetic fields that generally keep the uniforms clean (an argument that generally delights parents more than children!). But these fields do not stand up well to snow and frost, and so from November to February all these little people migrate to "the gym" to continue playing their favorite sport.

A "complete" sport

Yes, and that's why field hockey appeals to so many people: it's a very fast sport, an incredibly technical discipline, the ideal playground for tactical enthusiasts, and a guaranteed spectacle at all levels. There's something for everyone!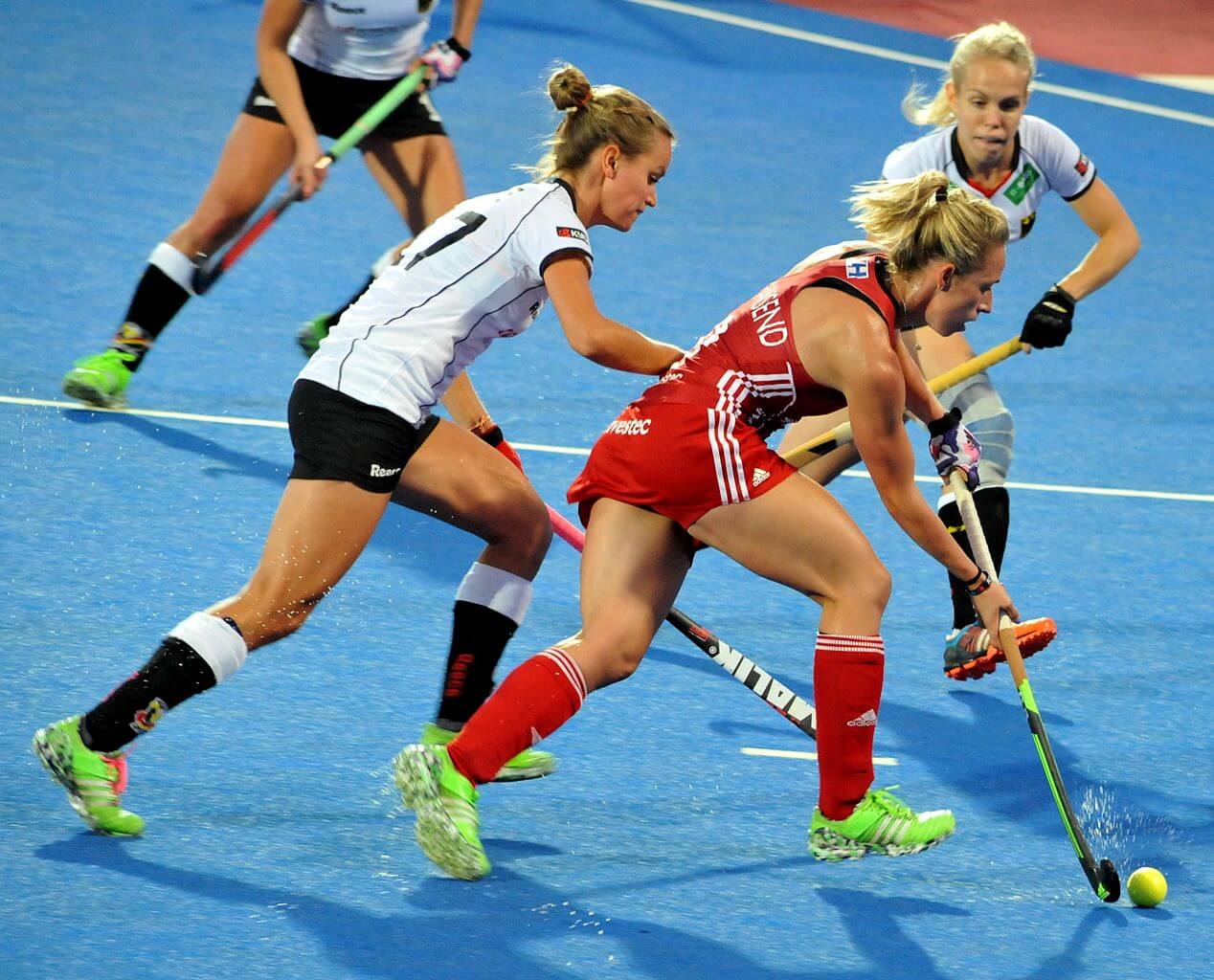 The modern game was developed in the public schools of 19th century England and is now played all over the world. The governing body is the International Hockey Federation (FIH). Men and women are represented internationally in competitions such as the Olympics, World Cup, World League, Champions Trophy and Junior World Cup. Many countries have extensive junior, senior and masters club competitions. The sport is known simply as "hockey" in countries where it is the most common form of hockey. A popular variation is indoor field hockey, which differs in a number of ways while still using the basic principles of field hockey.
The stick is made of wood, carbon fiber, fiberglass or a combination of carbon fiber and fiberglass in varying amounts. The stick has two sides, one rounded and one flat; only the flat side of the stick is allowed to advance the ball. During play, goalkeepers are the only players allowed to touch the ball with any part of their body. A player's hand is considered part of the stick if he/she is holding the stick. If the ball is "played" with the rounded part of the stick (i.e., stopped or deliberately hit), this will result in a penalty (accidental touches are not an infraction if they do not materially affect the play). Goalkeepers often have a different type of stick; they also cannot play the ball with the round part of their stick.